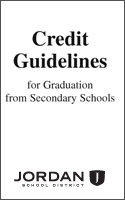 For basic info on graduation requirements, please visit the Graduation Requirements page.  For info on making up credits, please visit the Credit Recovery page.
---
Credit Guidelines Manual 2021-2022
Credit Guidelines Manual 2022-2023
---
The purpose of this handbook is to provide Jordan School District administrators, school counselors, and other guidance personnel with guidelines that will assure consistent awarding of credit across the District.  If after consulting this document, you do not find answers to specific questions, please consult with the secondary school counselor specialist, your school principal, or an administrator of schools supervising middle schools or high schools. 
There are essentially six types of credit that may accrue toward graduation within the Jordan School District. This booklet has been organized around these six sources of credit as follows:   
Regular coursework taken at Jordan District secondary schools.

Online courses for Grades 9-12 taken through Utah Students Connect/Jordan Connect, the Statewide Online Education Program or other accredited online providers. 

Credit transferred from another

accredited

* educational source outside Jordan District.

Make-up credits or credit taken at an

accredited

* educational source to make-up for failed courses.

Enrichment and acceleration credit or credit taken from an

accredited

* educational source to supplement regular coursework or to accelerate toward early graduation.

District-approved tests, portfolios, or other performance appraisals (e.g. Jordan District or Utah State Board of Education (USBE-Approved Competency Assessments).
*"Accreditation" means the formal process for internal and external review and approval under the Standards for the Northwest Accreditation Commission, a division of Advance Education Inc., (AdvancED). [State Board Rule R277-410-1A].